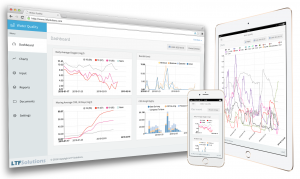 Decision Support System
Information on oxygen, COD, COD freight and weather creates the perfect dashboard, offering the ability to make more informed decisions in order to maintain good water quality during the winter season, for example, cleaning the apron before rainfall. In addition, the application immediately shows whether environmental regulatory requirements are being met.
The mobile version of the application provides the option of monitoring both current and historical measurements anytime, anywhere, and can be used on any modern smartphone or tablet.
Water Quality Control
In collaboration with Schiphol Airport and the Rijnland District Water Control Board, we have developed an application for monitoring water pollution in Northern Holland. Information from automatic and laboratory water sampling is combined and can be analysed with the help of graphs and tables.
The data can be used to make decisions on the control of one or more pumping stations or dams. This ensures a high quality of open water for recreation, watering cattle and as a habitat for plants and animals.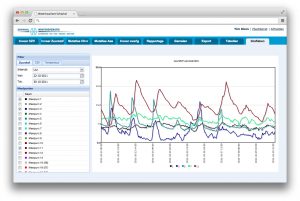 Apron Cleaning
At the end of the winter period, residues from de-icing fluid remain on the aprons. It is important that these residues are cleaned before they can flow into surface water. Our application provides step-by-step instructions to ensure every apron is cleaned in the right way.
Thanks to our latest hybrid graphical user interface, the application can be used on computers in the control room, as well as on iPads within the cleaning trucks.
Airport De-icing
In cold weather conditions, airplanes need to be de-iced before taking off. Due to environmental regulations, chemical liquids which are both dispensed and collected need to be accounted for. Multiple airport handler companies use this application to request a de-icing; the quantity of dispensed chemicals simply needs to be filled in when de-icing is complete.
De-icing will begin after the airside officer notes and approves the request. All data will be available for management reports. This allows handlers to obtain customized reports on the quantity of each liquid used. This data can be used by the airport to ensure more effective clean-up of chemicals and preservation of clean surface water.
The airport officer should not only be able to approve requests at a desk, but also when driving airside. We have therefore developed a mobile application for iPads which can be mounted in several vehicles.
This will allow the airport officer to control the requests just like on a desktop computer, but with a special interface, making full use of the touch screen.
Collecting Sprayed Liquids
By closing certain sections of the Schiphol Airport drainage system, contaminated liquid waste can be collected and removed with tank trucks.
Our software will register which sections of the drainage system have been closed. When closing or opening drainage wells, each change can be recorded using an iPad; the specific drain can be identified with the help of GPS location data.
All registered data is used to compile real-time maps of the drainage situation. These maps can be displayed on desktop or mobile devices as shown in the image.
Environmental Levy Schiphol Airport
During the winter season, aircraft ground handling uses de-icing liquids to prevent the adhesion of ice to airplanes. These liquids are collected afterwards, to prevent environmental contamination.
The 'polluter pays' principle is used, which means that the relevant ground handler is responsible for paying for both cleaning and the damage done to the environment. Since a variety of types of liquids are dispensed and collected, calculations often become fairly difficult. This application was developed to address this problem.