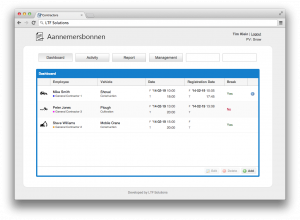 Contractor Registration System
Our contractor registration application is used to keep track of all contractors and their work at Schiphol Airport. Trough this application, contractors can sign in and out, and add their services; after these services are approved by the airport, the application will calculate the rates and present all information in management reports.
The use of this application can save a great deal of time and paper, and complex calculations (evening/holiday rates and travel/break charges) are done on the fly.
Luchthavens.org (Regional Airports)
The NVL is an association of airports in the Netherlands. By combining their knowledge, both small and large airports can learn from each other on many different levels. LTF Solutions has designed not only a website with a content management system where NVL administrators can edit page contents easily, but a complete portal for members as well.
Within this portal, airport management can access meeting documentation, discuss articles and upload images and documents into an advanced file system. In addition, we help with online advertising and sending newsletters to members.